Update: Thanks everyone for participating!  The codes have expired as of January 15, 2016.  Stay tuned for articles and tips on how deeper self-awareness, building habits, and taking action, can help you build more freedom in life: here.  Again, thank you very much!
I'll get straight to it.
I've been lucky to have taken Sally Hogshead's "How To Fascinate" Assessment (more info here!).
This isn't some simple trivia Facebook Quiz.  This is backed up by two decades of research, and is being used by companies all around the world.
I've got a 100 codes, with total retail value of $1,000, for the How To Fascinate Rapid Assessment, and I'm giving them away, first come-first serve.
And I want you to have one.

The Fascination Advantage
Through 28 questions, this assessment show you how the world sees you, and what makes you most fascinating, most valuable to the people around you.
Based on two decades of research and studies, Sally Hogshead has distilled all of that into the 7 Advantages, the 7 ways we fascinate others.
Each person also has a primary and a secondary way we fascinate, which lends itself into 49 different personality archetypes, each with its own approach, nuances, style, and fascination.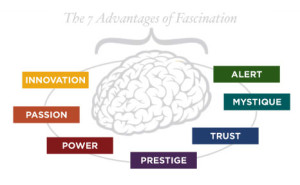 I've found this extremely useful for me, both in my professional and personal life.
My primary advantage is Mystique – meaning I tend to be more careful about how I say, and generally maintain professional distance.  I also think things through and prepare what I'm going to say, how I'm going to say it, and when.
Which is surprising.  One, because it's true.  Second, because my secondary advantage is Passion – meaning I tend to be very sincere and approachable, looking forward to building rapport with colleagues, and high-energy, particular about causes and groups I love and believe in.
The assessment, and additional self-awareness given to me by the assessment, has led to more acceptance of my two styles, and the interesting combination and advantage they have given me in my relationships.
The knowledge and acceptance has also allowed me to be more comfortable and confident in my style.  That I can be both professional, careful, responsible, and at the same time very genuine, sincere, and warm.
How Do You Find Out?
Sally has gifted me with a 100 codes for the "How To Fascinate" Rapid Assessment, so you can find out how you fascinate, and how people see you, and how you engage them.
the 100 codes has a retail value of $1,000, and are only valid until January 15, 2016.
And in the spirit of Christmas, I'm giving them away, first come-first serve.
You'll also receive my weekly articles which show you how you can create deeper self-awareness, build habits, take action, and get more freedom in your life, which the How To Fascinate assessment has definitely helped me with.
Just put your email address, confirm your email address, and follow the instructions I'll be sending you to take the assessment!
Acknowledgements:
All material and the Advantages of Fascination picture in this post is courtesy of Sally Hogshead, www.HowToFascinate.com