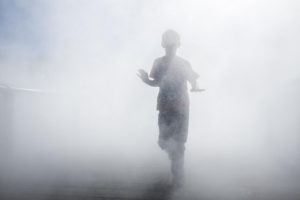 To see part 1, click here.  I recommend you read that first.
The start is always self-awareness.
If you can develop the self-awareness to catch yourself when fear threatens to overcome you, that's a huge step forward to developing comfort, and breaking through fear.
Breaking through fear as an obstacle.  Breaking free from fear as baggage.
How do you break through fear to get to the point where it's more comfortable for you?
Repetition
If you don't do it, it won't get any easier.
The first time I tried doing squats at home, I couldn't get all the way down.  My legs, and hamstrings were too tight, and I always felt pain in my hips.
It wasn't comfortable.
Until I kept on doing it, and then it became easier and easier for me to stay squatted, and to execute the full range of motion.
I remember how uncomfortable, and painful it was, to start out playing guitar, when my fingers weren't used to fretting the string, and to plucking.  It was painful, and I'd end up with sores and little wounds.
Until the calluses, the muscles, the feel, got developed.  Then it became comfortable to keep on playing and playing.
Now, I'm doing cold calling, and the more calls I make, I foresee that easier time I'll have.
When you keep repeating the action, you find ways to make it easier, and to make it faster for you to follow through and do it.
You find ways to be comfortable.
Embrace the suck.
Improve your skills
This is the other side of the coin.  It's not only the repetition that grants comfort and allows you to break through fear.
It's upping your level.  It's getting better, so that you can better handle the situation, the fear, and the obstacles that come your way.
The difficulties and situations don't become easier.  Problems don't lower their level of difficulty.
We just get better at handling them.  We improve.  Then by our standards, things get easier.
That's why when we do something that's easier for us, and harder for others, we're both right.  It's both hard, and easy.
What differs then is the level of skill.
And the better you get at handling situations and problems, the less afraid you'll be when you're in them.
The less afraid you'll be when you know they're coming.
Recondition your mind and beliefs.
Our mindset and beliefs play a huge role in affecting what actions we take.  If we have beliefs that stop us from getting what we want, then it's a sign for us to begin to redefine ourselves.
Our fears also come from the limits we set ourselves.  About how bad and uncomfortable we feel when faced with something we're afraid of, like spiders, heights, uncertainty.
I used to be afraid of speaking in front of an audience.   What was more difficult was that I kept on getting opportunities that had me speaking in front of an audience.  Strangers, no less!
To recondition your mind and beliefs to break through what you're afraid of, you've got to keep on telling yourself that you can do it, and that it's not scary after all.
I would spend time before speaking in front of a stage, to just keep psyching myself up, and telling myself, that's it's going to be OK, and that I can do it.  Give myself fully to the moment, and to just do it.
Over and over.
Until I believed it.
If you keep telling yourself the truth you want to hear and see, you'll eventually believe it, and keep on finding proof in your everyday life.
Build support systems
This doesn't just mean people.  It's schedules, environment, tools, things you use to be able to get you to break through fear, and be more and more comfortable with it.
I remember the first day I had to cold call more than a hundred people.  It was intense, nerve-wracking.  My hands were shaking, and my throat was drying up.  I already wanted to give up after my second call.
But I kept on going.  I had a poster on my desktop that I kept looking at whenever I would want to just stop and quit, and that would remind me to keep on going.
Excuse my language, but the poster read: "Don't be a little bitch."
Another support system I had was I would set a timer to remind me that I should be making calls, and not giving in to fear.  Fail or not, make a call.
I changed my goal from making a successful call, to just making a call.
That's a support system as well.  Make your targets so simple that you can't fail, and continue to build the comfort and skill, until you can reliably break through your fear.
They're like crutches.  Support systems are crutches.  They allow you to walk, when otherwise, you wouldn't be able to.
Build freedom
Build freedom from fear, and the illusion of having no choice in your life.
Develop the self-awareness to discover what you're afraid of, and to face them.
Keep on taking action, and making choices to push you forward.  Through that fear.
There's no way around fear, except to go through it.
Create rituals and habits to keep supporting you to grow, instead of backsliding, and giving in to fear.
To break through fear, is to break through your inner barriers and walls.
Break through, and be free.
Build freedom from fear.
What do you to overcome fear?  Please share in the comments below!