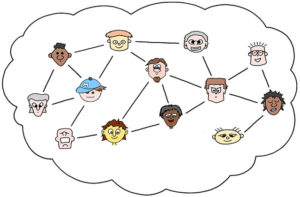 It would be great if I had an unlimited fount of discipline and memory.
I'm only human.  And as with any other human, my memory, and willpower, is in limited supply.
If I want to do things consistently, I have to learn how to put up systems and structures, so that I can get to doing what's important and good for me, almost on autopilot.
Systems that support you, and help you build habits.
What systems should you be building in your life?
Financial Systems
Money's not the only important thing in the world, but you sure can do a lot with it.
One rule about money, is that it flows.
It flows into your life, and it flows out of your life.
You earn it, make it, save it, keep it, spend it, whatever you do with it, it wants to flow.
The question then becomes, how do you make money flow into you, keep circulating back to you, and not be bothered by the small stuff with it?
You need a system.
Do you know where your money goes?  How much do you make, versus how much are you spending and saving?  Are you putting aside money, making it grow, for whatever future purpose?
Have you set aside money you're going to use, to create larger flows of money into your life?
Are you even prepared to attract larger and larger flows of money?  Are you conditioning yourself, preparing yourself, and working hard on yourself?
I've set up a system where for every dollar I earn, I set aside an automatic percentage for savings, tax allocation, and investment.  I have segregated accounts for specific purposes.
I'm also in the middle of upgrading my system, which means creating an integrated recording and reporting system for me and my wife, creating additional streams of income, and continually educating and conditioning myself to more and more abundant possibilities.
This takes out a lot of guesswork, and the sooner you control and systematize your finances, the sooner you prepare and predispose yourself to handling more money in your life.
Health systems
Our bodies are very adaptable, and we humans have learned and evolved to survive in the harshest of environments.
But surviving, is a very different affair, from thriving.
Our bodies, minds, and hearts, can only take so much punishment, so much abuse.
I met an old friend from where I used to work.  She told me of another boss in the company that had a scandal uncovered, was let go.  Some time after, that person died of a heart attack.
I also heard of another person who never took care of their health, basically, never took care of themselves.
No, they're not dead, yet.
But last time I saw them, they had difficulty walking, and couldn't eat what they wanted because of possible dire consequences.
They weren't happy, and as a result of their health, their quality of life, and happiness, suffered.
But, it can be quite challenging to take care of your health, particularly, when you haven't done it before.
You need a system
I used to drink a lot of cola.  Sugary drinks that tasted great, made me feel satisfied, but provided no positive impact on my health.
One way I was able to eliminate that, was to not buy any cola, and not stock any in my fridge.  Instead, I put refillable bottles of water.
And when I got thirsty, instead of looking for cola, which was nowhere near, I'd go for the water.
Same for the junk food, and other unhealthy stuff.
I didn't go from zero to straight out 3 sessions in the gym a week.  I started this journey doing one push-up a day.
I put reminders on my wall, on my calendar.  I took up a friend's offer and paid for gym membership, and asked him to check up on me once in a while.
Creating a system for your health is not only about what you do, but more importantly, it's about what you think is possible.
It's about changing your mindsets and beliefs about what you put in and do to your body, and to believe in your capability to push beyond what you already know.
To paraphrase Tony Robbins, one measure to see a person's standard for themselves, is their physical health and fitness.
Self-Empowering systems
How do you cope with failure?  When things don't go your way?
How do you deal with people who put you down, and don't believe in you?
What do you do when you yourself, aren't confident and lack the self-belief?
Same with our finances and health, we aren't just abundant, healthy, and empowered at a glance.  It takes consistent effort and patience.
You need a system.
Find out what works for you to fill you up with confidence and belief.
I remember my mentor telling me that she remembers all of her failures to keep her humble, before she steps out on stage.
That didn't work for me.  But, the opposite, did.
I remember all of the times that I succeeded, and all the triumphs and wins that I can remember, and what it felt like before, during and after the fact.
Find out what works to provide you the confidence you need, even when you don't feel it.
Another system is to watch your language.  Put reminders where you can see them, to remind you in empowering language, of your skills, capabilities, and greatness, with humility.
Avoid people who put you down.  Spend less time with them.
Create routines that fill you with confidence, and all the good things that you want to have in your life.
Get better on autopilot
Improve your life by building structures that help you get what matters most to you, done.
Step by step, build systems, and trust in the process.
What systems do you have in your life?  Please share in the comments below!